However, Nintendo said it would be much easier to add friends. UPDATE: There are conflicting reports, another source claims there won't be Friend Codes at all for the Wii U.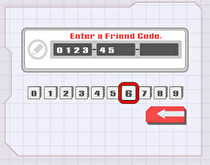 Update:
Shortly after this story broke, another source was found with conflicting claims. GameTrailers.com Editor-In-Chief Shane Satterfield tweeted that he received confirmation that Friend Codes are gone from the Wii U.
Original Story:
It appears Nintendo is planning for Friend Codes to make a return in some form for the Wii U, according to David Gibson, Head of Software & Services for Macquarie Capital Securities Japan. However, at the E3 analyst event where this was discussed, Nintendo also claimed it would be much easier to add friends than in previous Friend Code-based Nintendo online endeavors.
Details are scarce at the moment, so it is unknown how exactly Friend Codes are used in Nintendo's online strategy, or in their newly revealed Miiverse social communications network. Nintendo has on other occasions stated that their overall Nintendo Network online service would support individual-based accounts as opposed to the game-specific accounts of the Wii or the hardware specific accounts of the 3DS.