Yet another Kirby title makes an appearance on Nintendo's downloadable platform.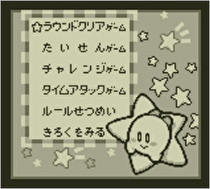 Kirby no Kirakira Kids, otherwise known as Kirby's Star Stacker outside of Japan, is coming to the Nintendo 3DS eShop in Japan next week. Originally released in 1997 on the Game Boy, Kirby's Star Stacker is a puzzle game where players must earn as many stars as possible by matching corresponding blocks.
In Japan, Kirby's Star Stacker was also remade on the Super Famicom and released about a year after the Game Boy version. While both games are nearly identical, the Super Famicom version includes a story mode where Kirby faces off against opponents from previous Kirby titles.
Kirby no Kirakira Kids will retail for 400 yen and be released on May 23 in Japan. There are currently no plans to release the game outside of Japan.