Birds, bacteria, and bikes hit Nintendo's downloadable services this week.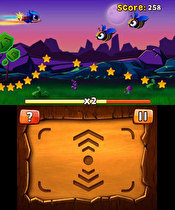 This week we have one eShop, one DSiWare, and one Wii Virtual Console game to fill our downloadable Nintendo needs. The 3DS Virtual Console is once again barren, with the last release being the Game Gear games on March 15.
First is the new eShop game, Bird Mania 3D. Control Mojo, a flying bird trying to regroup with this flock in Africa, as he takes to the skies. Avoid obstacles and collect bonuses while flying through the air. Bird Mania 3D even features achievements for those looking for an extra challenge. Bird Mania 3D is available on the eShop for $1.99. Our review of it should be up today.
Next is Amoebattle on both the DSi Shop and eShop. This real-time strategy game takes the fight to a microscopic level. You can use the touch screen to control your army and help fight off a mysterious infection. Amoebattle is available now for $4.99. We will have a review of it soon.
Lastly is the Wii Virtual Console Arcade game, Super Hang-On. Originally released in 1987, Super Hang-On features 48 tracks of street bike racing action. It is available on the Wii Shop for 900 Wii Points.