Call of Duty may skip Nintendo handhelds this time around.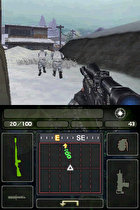 n-Space is not currently working on a Call of Duty game for Nintendo handhelds, according to n-Space founder Dan O'Leary via Twitter.
In response to a question asking whether n-Space was working on a handheld counter part to Call of Duty: Black Ops II, O'Leary said "we have no first person shooters in development at this time."
This doesn't rule out the possibility that a different company is working on a handheld version of the game, but n-Space certainly doesn't seem to be working on it.