Frogger goes the way of Street Fighter in this upcoming update.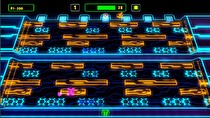 Frogger: Hyper Arcade Edition has been announced by Konami for release on WiiWare, Playstation Network, smartphones, and Xbox LIVE Arcade in a recent press release.
The game is an update of Frogger as part of its 30th anniversary celebration. In addition to classic gameplay, Hyper Arcade Edition offers additional gameplay modes, including Tile Capture, Battle Royale, Freak Out, and more to be announced. The game also features competitive four player multiplayer, including both human and CPU opponents. Whether the multiplayer is online or local has not been established.
In addition, players can customize their game experience using a variety of skins, from the modern neon style of Hyper Arcade Edition, to 8-bit sprites from Contra, Castlevania, and early Frogger titles.
Frogger: Hyper Arcade Edition releases on all platforms this spring.