Sega and Zoe Mode's 3D-fueled platformer is a GameStop exclusive now, for the budget price of $19.99.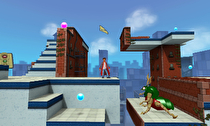 Crush 3D is coming out on March 9 in North America as a GameStop exclusive for $19.99, according to a tweet from Sega's official Twitter account.
Originally, the remake of a PSP game was slated for a September 2011 launch before it was delayed because of lackluster 3DS sales. From there, it was delayed to February, moved up to January, and then pushed back to March. The game came out in Europe in January.
A demo is available on the North American eShop. You can read our impressions of the demo here.