UPDATE: However, it's still coming out in Europe this week.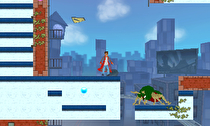 Crush 3D is coming out in March in North America, according to representatives from Sega. It was most recently scheduled for release today.
Previously, Crush 3D, a port of a 2007 PSP game, was slated for a September 2011 release, but was delayed because Sega wanted to hold the game until the 3DS sold more units. A February 2012 date was announced back in October, but the title was moved up to January 10, 2012 in December.
This isn't the first time Sega has revealed a last-minute delay. In late 2009, Xbox 360/PlayStation 3 title Alpha Protocol was delayed to June 2010 on the day it was supposed to come out.
UPDATE: Crush 3D is still scheduled to come out in Europe on January 13 according to Sega representatives.