Mark off your calendar because Mario is throwing another party!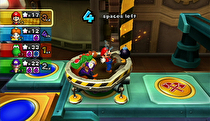 Nintendo Australia has announced that Mario Party 9 will be releasing on the Wii on March 8, 2012.
Mario Party 9 features some new modes for players, such as a party mode that changes how the game plays. In this mode, players move around the board in one vehicle, and everyone takes turns being the Captain of the vehicle by hitting Dice Blocks to move the group forward and hoping to land on lucky spaces. This mode streamlines the gameplay and helps to keep everyone involved in the action.
The new game also features 80 new mini games for players to discover and enjoy.