The page was pulled soon after, however.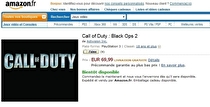 Call of Duty: Black Ops 2 was listed on Amazon France but was removed soon after.
The move follows Activision's recent acquisition of BlackOps2.com, as well as a recent blacklisting of French website Gameblog.fr for reporting on the news. Activision France had demanded the website (among others) to remove stories on the supposed game immediately. Gameblog, unlike others, refused to comply, and as a consequence was asked not to attend an upcoming event for Transformers: The Fall of Cybertron, as well as being cut off from copies of Activision games. Activision later commented to Kotaku that "Activision doesn't blacklist journalists. We believe this was a misunderstanding and are working towards a resolution."
Activision's retribution may confirm the existance of the game, as nearly all cases of false gaming announcements either lead to no corporate response or a disconfirmation of some sort.
The potential title, likely developed by Treyarch, would be following the success of Call of Duty: Black Ops, which has sold over 25 million units across all platforms.