The legendary ice dragon may undergo a change similar to Giratina's three years ago.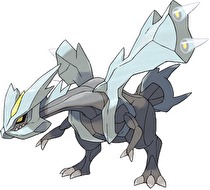 Users at the website Pokébeach have found placeholder for a potential alternate form of the legendary Pokémon Kyurem.
When analyzing the form count of Pokémon in the National Pokédex in the coding of Pokémon Black and White, it was found that Kyurem's count of forms doesn't match any other Pokémon's. The amount of forms in the game's coding is either "0" (no alternate forms) or the number totaling the original form and all alternate ones. Mewtwo, who has only one form, would have a zero listed in the coding. Shaymin, having a basic form and an alternate form, has a two listed under how many forms it has. Kyurem, however, has a one listed instead of the zero originally expected from it.
This could be evidence of an alternate Kyurem form because, as reported by the website, in Pokémon Diamond and Pearl, Rotom, Shaymin, and Giratina also had a "1" listed under forms. All of these Pokémon eventually gained alternate forms when Platinum (an enhanced version of Diamond and Pearl) was released.
There is currently no evidence as to whether or when additional forms (or even additional games facilitating these forms) could be revealed.