The advanced connectivity feature will be available right out of the box, Portal of Power not required.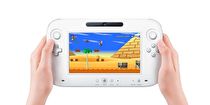 The Wii U tablet controller will have Near Field Communication functions, Nintendo President Satoru Iwata announced at today's Third Quarter Financial Results Briefing.
In addition to some of the confirmed features of the controller, Nintendo decided to add NFC functionality. This allows the Wii U controller to establish radio communication with enabled objects that are in close proximity. Iwata explained that "by installing this functionality, it will become possible to create cards and figurines that can electronically read and write data via noncontact NFC and to expand the new play format in the video game world." NFC-like technology was introduced into gaming last year through Skylanders' Portal of Power where figurines with embedded RFID chips allow players to import characters into the game.
Iwata further noted that "adoption of this functionality will enable various other possibilities such as using it as a means of making micropayments." Many credit cards as well as some mobile phones include embedded chips that would make such a system possible. Nintendo plans to implement the FeliCa and MIFARE standards, which are used in currently used in payment systems around the world.