The new crossover will be coming to Japan in two months.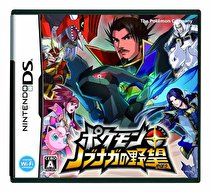 Pokémon + Nobunaga's Ambition game will arrive on March 17, 2012. The announcement came from the latest issue of Jump. New details on the game have been revealed along with the release date.

The game is a crossover between the Pokémon series and Nobunaga's Ambition series, turn-based strategy games set in historical Japan. In the game, players will be able to choose either a male or female protagonist and (regardless of their gender) will start off with an Eevee as a partner. They must then travel across the 17 kingdoms defeating the generals and their partner Pokémon, in their path in an attempt to unite the country.
The battles will feature six-on-six matches where generals will be able to use their "busho powers" to assist them. Players will be able to recruit wild Pokémon as well as generals before each battle in order to build up their armies.
Additionally, Amazon has released the box art of the game, revealing that the game will have Wi-Fi features.
There have been no announcements on whether or not the game will come to America.