The game will also include online play.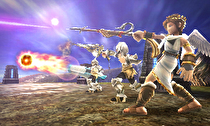 Kird Icarus: Uprising has been given a March 22, 2012 release date for Japan, Satoru Iwata announced on Nintendo Direct.
Originally, the game had an early 2012 release date. This confirms when Japanese players can expect the game. Iwata explained that the game is currently in the fine tuning stages.
In addition to new footage of the game, the live stream explained some of the intricacies of the game's multiplayer mode, including online play.