And a 3DS card case too.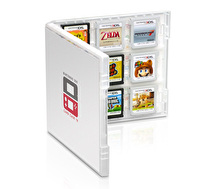 The Japanese Club Nintendo website has updated its list of redemption rewards with two new prizes – a 3DS/DS game carrying case, and a shiny, golden Wii Nunchuk.
The carry case will house 18 Game Cards for either DS or 3DS and sports a simple yet charming logo on the front, available for 150 points. The gold Nunchuk has a white cable, yet features the same sparkly golden exterior and opaque golden buttons as the Limited Edition Skyward Sword Wii Remote Plus. It will set you back 600 points.
If you're fortunate enough to live in Japan and have the points to spare, these are certainly some considerably worthwhile pieces of memorabilia to own. For the rest of us, no news has been given about any plans to add these to the international Club Nintendo catalogues as of yet.