The remaining games include Minish Cap, Fire Emblem, F-Zero, and Wario Land 4. UPDATE: Confirmed for Europe.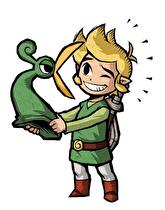 The Game Boy Advance Ambassador games are coming out on December 16, according to a SpotPass message sent out to Japanese and European 3DS systems.
The message also confirmed the four other games that weren't confirmed previously. They are:
The Legend of Zelda: Minish Cap
F-Zero: Maximum Velocity
Fire Emblem: The Sacred Stones

Wario Land 4
Those games will be available along with the six previously confirmed titles.
Kirby & The Amazing Mirror
Mario Kart: Super Circuit
Yoshi's Island: Super Mario Advance 3
Metroid Fusion
WarioWare, Inc: Mega Micro Game$
Mario vs. Donkey Kong
It is very likely that these games will also hit North America this week, but it has not been confirmed. We'll let you know as soon as it is.