A special limited edition bundle will come with Nintendo's new peripheral.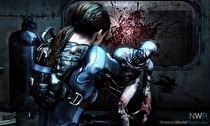 Capcom's Resident Evil: Revelations will come optionally bundled with the Circle Pad Pro when it hits Europe in January 2012.
A press release released by Nintendo (who is distributing the game in Europe) states: "Resident Evil: Revelations will be available to players across Europe as a stand alone game and as a special limited edition bundle which also includes the new Circle Pad Pro accessory."
In North America, the game will be the first 3DS game to be released at a $50 price point. It is unknown whether this bundle will add an additional fee to the game in Europe.
The Circle Pad Pro was unveiled in September 2011 to go with Monster Hunter Tri G in Japan. It's release in other regions has been confirmed, but this is the first concrete detail of when it is coming out in Europe.
Previously, Capcom told us at New York Comic Con that the peripheral will be available when the game comes out in February whether it is bundled or not.
Resident Evil: Revelations is coming out on January 27, 2012 in Europe and February 7, 2012 in North America.