Super Mario 3D Land and 3DS sales also soar.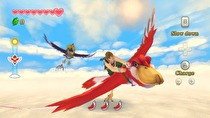 Nintendo of America President Reggie Fils-Aime revealed some impressive statistics regarding the sales of the Nintendo 3DS as well as two of their holiday titles in a recent USA Today interview.
The Legend of Zelda: Skyward Sword, released last week, sold an impressive 535,000 copies. According to Fils-Aime, this makes Skyward Sword the fastest selling Zelda title of all time.
Similarly, Super Mario 3D Land, released on November 13, has sold over 500,000 copies since its launch. This makes Super Mario 3D Land the fastest-selling portable Mario title for the company.
The 3DS also had strong sales in the past week. Sales for the system rose 325% above sales for the week of November 6, the week before Super Mario 3D Land's release. The week during Super Mario 3D Lands release only saw a 49% rise. This surge in sales has allowed the 3DS to pass the Nintendo DS's total first year sales.
It was also revealed that during Black Friday sales alone, the Nintendo Wii sold 500,000 units.