Hayabusa-san's bloody journey continues on Nintendo's latest console.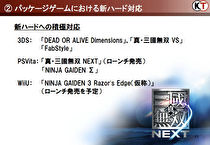 Ninja Gaiden 3 Razor's Edge has been confirmed as a launch title for the upcoming Wii U, based on Tecmo's marketing material.
In an earnings presentation, Tecmo Koei presented their plans for their upcoming releases. They explained their worldwide plans, which include handling systems based on regions. In a slide, they show future titles, which confirms Ninja Gaiden 3 as a launch title for the Wii U.
The presentation also confirms sales numbers for one of their first 3DS titles, Dead or Alive Dimensions. Worldwide, the game sold 310,000 units.