Three new items can be purchased with Club Nintendo coins.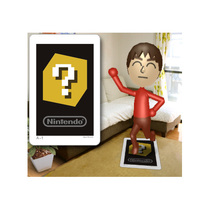 Three new rewards have been added to the selection available on Club Nintendo. These include a set of posters featuring images from the Donkey Kong series, a giant AR card for use with the 3DS, and a Metroid: Other M screensaver.
The Donkey Kong poster set features three posters: one showing the different iterations of the character over the years, one of Donkey Kong and Diddy Kong, and one showing the first level of the original Donkey Kong arcade game. This set costs 400 coins.
The giant AR card is of the same design as one of the AR cards included with the 3DS, but is big enough to produce a life-size image of a Mii when used in connection with the system. This reward costs 200 coins.
Finally, the Metroid: Other M screensaver features the game's logo as well as character art of Samus and her Galactic Federation allies. It is available for Mac or PC, and costs 10 coins.