It is not expected that consumers will want to buy a second controller.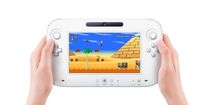 Nintendo's current plans are to work on games that use a single Wii U controller only. This is partly due to cost, as a game that used two controllers would have to add enough value for it to be worthwhile for the consumer to justify buying another unit.
In the Investor's Q&A following E3, Satoru Iwata said that a Wii U console with one included controller is considered to be the complete set. Further down the line, they may consider creating experiences that require a second controller, but this would only be after evaluating the possibility that consumers would purchase a second of these more expensive controllers, and whether the experiences would be worth the added cost.
Shigeru Miyamoto has spoken about the possibility of looking into the use of two touch screen controllers, following research into whether players would consider bringing a Wii U controller to a friend's house to play together. Again, the purchase of additional controllers was not expected.
Katsuya Eguchi, producer at Nintendo EAD, has said that options that maybe use two screens were under consideration, but the price being too high was certainly a possible obstacle.
As we reported earlier, the Wii U graphics processor could certainly be capable of sending video to up to four Wii U controller screens.