The unveiling of the Wii U did not convince analysts or stock holders.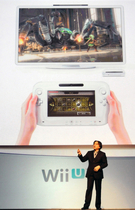 After the unveiling of the Nintendo Wii U at E3 on June 7, shares for Nintendo have fallen 5.7 percent to 16,930, the lowest in more than five years and is leaving analysts to question whether or not Nintendo will be able to receive the same kind of success they did with the Wii.
"There were high expectations from the new version of the Wii and this fell far short," Yusuke Tsunoda, an analyst at Tokai Tokyo Securities Co. stated. "People had expected to see something more at a big event like the E3, but there wasn't really anything more than what's already reported."
Sales for Nintendo have been shrinking over the past two years, and Nintendo President Satoru Iwata is hoping that the Wii U will help to revive sales for the video game giant.