Four titles and a Mario Kart bundle confirm retailer reports.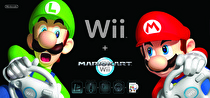 Box art for the budget-priced software line dubbed "Nintendo Selects" has appeared, confirming earlier retailer reports.
The first four titles in the Nintendo Selects line include Animal Crossing: City Folk, Mario Super Sluggers, Wii Sports, and The Legend of Zelda: Twilight Princess. Super Smash Bros. Brawl, another purported discount title, was not pictured.
The Nintendo Selects box art design is reminiscent of a similar budget line in Japan called Everybody's Featured Selection, which also features a dark red color scheme and a golden logo featuring a crown and olive branches.
Previous retailer reports detailed a "Wii Select" line, though the actual name is "Nintendo Selects." Those reports also indicated the existence of a Mario Kart Wii hardware bundle, which our sources confirmed, that will appear in both white and black varieties.