The system will retail for $249.99 and launches March 27.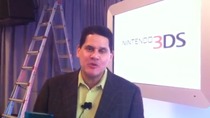 At the Nintendo 3DS Preview Event in New York, Nintendo of America president Reggie Fils-Aime announced the launch date and price of the Nintendo 3DS. The handheld will debut with a MSRP of $249.99 on March 27. This date comes near the end of the previously promised launch timeframe, which ends with the company's fiscal year on March 31.
Fils-Aime noted that focus groups consistently felt that the features included in the system warranted a price as high as $300 - $400, however Nintendo chose to keep the system price at $249.99, equivalent with the Wii launch price, and $100 more than the Nintendo DS.
The system will initially be available in two colors, Aqua Blue and Cosmo Black. Over 30 games will be available during the "launch window", but specific launch-date games have not yet been announced.