Excelsior! The Activision-owned studio is in charge of making Spider-Man games going forward.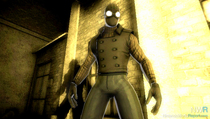 Beenox, the studio responsible for 2010's Spider-Man: Shattered Dimensions on Wii, is the lead developer for all upcoming Spidey-related games, Activision announced today.

The company, which is a wholly owned Activision subsidiary, previously worked on Guitar Hero: Smash Hits and the Wii version of Quantum of Solace. Their most recent release was Shattered Dimensions, which was well received, though our own Zach Miller had some issues with the Wii version.

Around the release of Shattered Dimensions, members of Beenox expressed interest in making a full game centered around the Spider-Man Noir character, which was featured in last year's game. That was never more than wishful thinking, and as of now, no release window or concrete game concepts have been revealed.