WiiWare demos reign supreme in this week's update.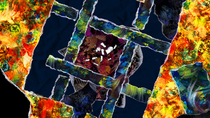 As announced by Nintendo last week, WiiWare demos return to the Shop Channel. The first four demos are And Yet it Moves from Broken Rules, BIT.TRIP Fate from Aksys Games, Jett Rocket from Shin'en Multimedia, and Thruspace from Nintendo. All of these demos are free and will be available for a limited time. New demos will be added in the coming weeks.
One new WiiWare title was released, Nintendo's Snowpack Park. The title has players rescuing penguins and bringing them back to the park. They can interact with them and tend to their needs. The quirky penguin title can be obtained for 800 Wii Points ($8).
The DSiWare service also sees three new additions today. From Tetris Online, Inc. comes Tetris Party Live. The title features the classic Tetris gameplay along with several modes such as Computer Battle, Online play via Nintendo Wi-Fi Connection, and Duel Space. Tetris Party Live is available now for 500 DSi Points ($5).
G5 Entertainment AB provides the second DSiWare title. Supermarket Mania is a time management game in which players attend to the needs of a supermarket and its costumers. Supermarket Mania is available for 500 DSi Points ($5).
Music on: Electric Guitar from Abylight is the final DSiWare title for the week. The app turns the DSi into a guitar where players can play their favorite songs in an easy to learn manner. Music on: Electric Guitar has been priced at 200 DSi Points ($2).
The final title for this week's update is for Virtual Console, Spin Master for the Neo Geo. The 1993 title is a side scrolling action game, where players take on the role of an adventurer named Johnny whose girlfriend has been kidnapped and a piece of his treasure map stolen. The title can be downloaded for 900 Wii Points ($9).