Nintendo is now advertising Wii Fit Plus towards new mothers in Japan.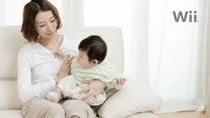 Nintendo has released a new Japanese campaign for Wii Fit Plus. The initiative has been dubbed "Post pregnancy exercise through Wii Fit Plus," and it encourages new mothers to exercise after giving birth using Wii Fit Plus. A page for the campaign has been made live.
For the marketing campaign, Nintendo surveyed 1,120 ladies with children up to 2 years of age. Of those surveyed, 78.30 percent of them didn't partake in any form of exercise after giving birth to their child. 66.30 percent of those women who exercised wanted to restore their original weight prior to their pregnancy. 70.70 percent of those women that didn't exercise can't leave their children behind. This information appears in a television commercial.
Wii Fit Plus was released in Japan on October 1, 2009, and has been a constant best seller according to the Media Create sales charts.