The smash-hit mobile game will find a home in consoles.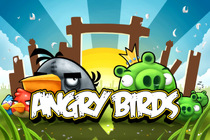 At the Social Gaming Summit and Virtual Goods Summit in London, Rovio's head of North American business development, Peter Vesterbacka, announced through his Twitter feed that their hit mobile game Angry Birds will be released on the Wii, Xbox and PlayStation Network. Multi-player, currently under development, was said to "be like old school Worms games". While no release date was mentioned and no other details were offered, the team has high hopes for the future of the franchise, stating that Angry Birds will be "bigger than Tetris".
Angry Birds is a puzzle game that was released for the iPhone and iPod Touch devices on December 10, 2009. Since its release the title has sold 10 million copies and has appeared on other touch-based devices. The objective of the game is to retrieve eggs that have been stolen by a group of pigs.