The redesigned Wii Remote gets a release date in Japan.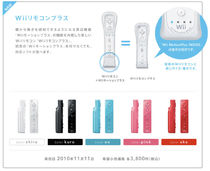 Nintendo's official site has revealed the Japanese release date for the Wii Remote Plus (called Wii Remocon Plus in Japan), a re-design of the Wii Remote that comes with the Wii MotionPlus gyroscope already integrated into it. The controller is the same size as the regular controller, and will come in five different colors: white, black, blue, pink and red.
Wii Remote Plus will be released in Japan on November 11, and will be sold for ¥3,800 (approximately $46), the same price as the current Wii Remote model. In North America, the Wii Remote Plus will come bundled with FlingSmash. Also on November 11, Nintendo will replace all Wii Remote controller bundles with Wii Remote Plus.
In addition, a new Nunchuk color has been revealed, the red model will also be released on November 11.