The first commercial RPG made on RPG Maker sees a remake on 3DS.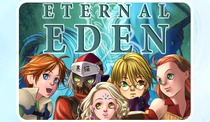 The Canadian development house Blossomsoft has announced through their Twitter account that they are remaking their RPG Eternal Eden for the Nintendo 3DS. The original title is known for being the first commercially released game made with RPG Maker VX, a software tool where players can create their own RPG title.

Eternal Eden tells the story of three children that have been banned from paradise from eating the fruit from the forbidden tree and thus are cursed to wander the world of fog. The switch between the two worlds is similar to Nintendo's A Link to the Past.