The ratings group has just given ratings for two WiiWare games and two Virtual Console titles from the Super Nintendo library.
A number of new ratings appeared on the ESRB web site today for both WiiWare and the Virtual Console.
Of the four rated titles, two are for the Virtual Console, and both hail from the Super Nintendo. Square Enix's Ogre Battle: The March of the Black Queen, the first game in the five episode series, and Nintendo's Super Punch Out!! will make their way to the service sometime in the future. With the upcoming release of Punch-Out!! Wii it is possible Super Punch Out!! will grace the service alongside the latest installment.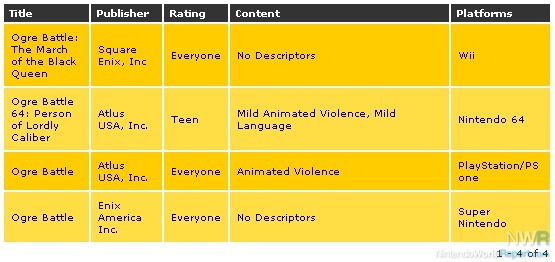 The other two titles revealed are both for WiiWare, one of which has already seen release in Japan. Lonpos, a Japanese WiiWare launch title published by Nintendo, will have players fitting pentomino pieces into open spaces on a rectangular board in order to complete puzzles. The final WiiWare title revealed, Equilibrio, is a physics-based ball-rolling puzzle game from DK Games.


However, just because a game has received an ESRB rating is not a guarantee it's going to be released in the near future. For example, the Super Nintendo title Zombies Ate My Neighbors received an ESRB rating in February 2007, yet it has not yet become available for download.