Failure is common, but never lasts.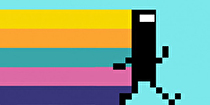 Oh.
Oh!
Yeah.
Yeaaaah!
Crap.
Out of the current six, Bit.Trip Runner is the only of Commander Video's low-bit, color-splashed games I own and have played. (The 3DS collection is high on my wish list.)
The above is a rough trajectory of personal reactions you could map to any of the game's stages. The objective never changes between venues: steer Commander Video's pixel-y, obelisk form around obstacles during his dash across a pitfall-and-ledge-littered screen. The controls are simple; each obstacle is taught, telegraphed, and kept constant throughout the level.
And yet, at least for me, each run stretches into a minutes-long affair of small successes and many, many failures.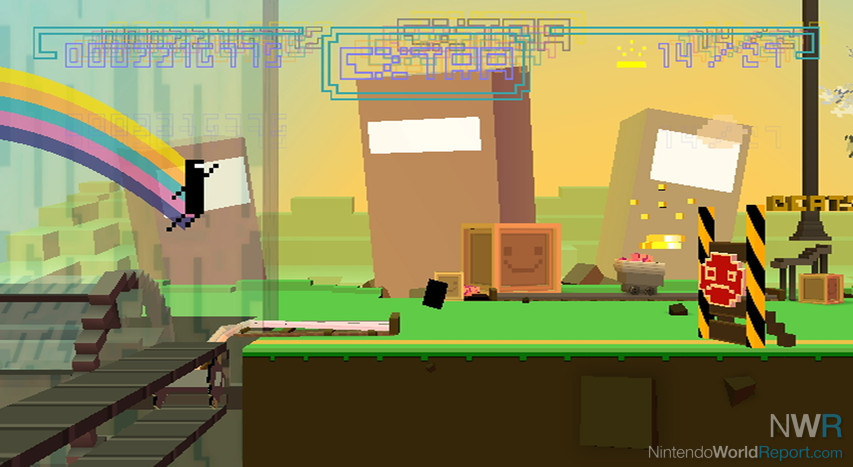 Like the other games in its series, Bit.Trip Runner is more a game of rhythm than it is the silly, faux-vintage auto-scrolling platformer it presents, though it is far less abstract in how it visually communicates the moving parts that make up its simple brand of play. Subsequently, there's no mistaking the consequences of an action, little cause to become disoriented (and impossible to get lost) in the business of the on-rails activity, and such minimal responsibility. Commander Video runs, and jumps, slides, kicks, and launches when you spot the need and give him the go, with your eye-to-hand reaction speed the only roadblock to a clean run.
Though it's harder to posit without having played the other Bit.Trip games, Runner's grounded concept seems to allows for more defined successes and failures. When you, say, tap too early and whiff a jump, Commander Video is rocketed back to the stage's starting line, voiding all progress and stripping you of any collected gold. Harsh.
The rollback also applies to the game's underlying soundtrack, a series of starry-eyed chiptunes that start off barren and build layers as Commander Video hits certain milestones. Messing up immediately halts and strips away whatever range of tones you've acquired during a run; when you start over, so does the song.
It's a bit depleting when a good multi-level groove snaps back to only subdued beats, but the music never actually stops. Even in falling short, the moment is immediately smoothed over by the continuous bump of sound, a gameplay spine that stretches on even after your mistake. In eschewing the usual moment for frustrated reflection when you screw up, Runner ensures you're never not making some sort of progress—even if it's the same couple screen lengths again and again.
Because of your direct connection to the evolution of the stage's music, failures and restarts have an audible impact on the flow and length of a stage's music, which often comes in fits and starts as you stumble and overcome particular obstacles. The resulting audio, when taken in apart from the game, is interesting in how it charts not only where and how often you've struggled, but also the joyous moment when you nail it and break a run wide open—a progression that's almost as engaging to listen to as it is to play.