Are you ready for the live, in-person podcast experience?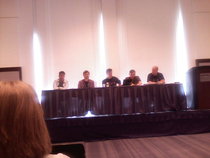 We are very excited to announce that Radio Free Nintendo has been accepted for our second annual live appearance at PAX East! Here are the details:
What: Radio Free Nintendo: A Live Nintendo Podcast for Grown-Ups... 2!
Where: Penny-Arcade Expo (PAX) East, Boston Convention Center, Cat Theater
When: Saturday, March 12 at 10:30am
Who: The RFN crew, and a few old friends...
To get a taste of what the panel is like, be sure to check out videos from last year's event over there in the "Related Content" sidebar. We had an absolute blast and want to go bigger and better in 2011! As always, there will be tons of audience participation and maybe even some prize giveaways. We'll record it all for fans stuck at home, but we hope you'll try to join us in Boston for the true experience! We can't wait to meet more RFN listeners and put on a great show for you all.
We'll also have full "coverage" of PAX East with help from a few other NWR staff members, and like last year, we'll do as many extra podcasts (or drunkcasts?) as possible! Mark your calendar and book a flight now! Also, be sure to register for PAX East right away -- it's only $55 for a three-day weekend pass, but the show will most definitely sell out in advance. Let us know in the comments if you plan to be there; maybe we can even have an NWR staff/fan meet-up! Anyone up for Jon+Jonny live karaoke on "Regulate"?