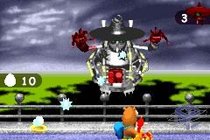 My anticipation for it has nothing to do with Banjo or Kazooie or the original games (which I loved). I think it's incredible that you can build a car in a few seconds, drive it around, find a spring, add that to give the car a jumping ability, then jump up to a high platform and find a propeller, instantly add that to the vehicle, then jump in the air and start using the propeller to fly around like a helicopter. THAT SHIT IS COOL AS HELL. Also, you can apparently build a space shuttle and fly into space. Someone bring me the smelling salts.
There is and should be some concern about the objectives Rare will provide in the game. After all, it's fun to goof around with your wacky new vehicle, but the game should give you some kind of goals as well. Rare's games have a history of problems in this department, and the Banjo-Kazooie series in particular is well known for feeling like a "collectathon". I think Nuts & Bolts might avoid this problem by letting you actually use the bafmodads you are collecting... to upgrade your vehicle. This all hinges upon very clever level design with multiple solutions to each challenge.
It seems that most of the antipathy towards Nuts & Bolts is that it doesn't follow the formula of the original Banjo-Kazooie games. I can definitely understand the desire for a new 3D platformer, because other than Super Mario Galaxy, Crackdown, and Rachet & Clank Future, the genre has been largely neglected in this generation of consoles. As a Nintendo fan, I know what it feels like when a series takes an unexpected direction (Wind Waker), and I also know what it feels like when a series has stagnated and needs to be revamped (Mario Party). The best sequels usually find a good balance. Whether the new Banjo-Kazooie will strike that balance, I can't say, but at least Rare isn't playing it safe. In fact, I was glad to hear that they have stripped away many of the complicated platforming moves from the last game. And to be honest, I don't think there is a long enough or strong enough pedigree in the Banjo-Kazooie series to get upset about radical changes. It's been eight years since the last console game... give Rare a chance to do something new. If it sucks, we can chastise them for it, but this vehicle emphasis at least has the potential to create a new kind of 3D platformer. It could be just as cool as the gravity in Super Mario Galaxy, but with more creative tools put in the hands of the player.