by Donald Theriault - 6:28 pm EDT
Total comments: 1 Source: Devolver
"Cats piloting mecha" means games are now taking inspiration from the NWR staff's browser history.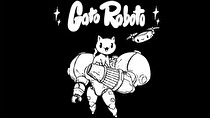 Devolver's 2019 lineup not only includes genocidal bananas, but also cats in robots.
Gato Roboto is the company's latest announcement, coming at PAX West and releasing wide in 2019. The game has an art style similar to recent Devolver Switch release Minit, but substitutes the overhead view for a side-scrolling exploration platformer.
Read more...