Way up north in Alaska, the hunt is on - but could someone check on Zach?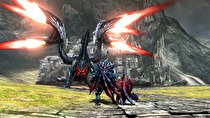 The retail space is well represented this week, as four different games pop into various shops on Tuesday (with Europe picking up a fifth in NISA's God Wars on Friday). The biggest of the guns is Monster Hunter Generations Ultimate, with cat puns and monsters ahoy. Also coming is Zach GOTY Blade Strangers - though with SNK Heroines next week and Senran Kagura Reflexions in two, we might have to call a doctor for him - Victor Vran Overkill Edition, and the second incident of de Blob in two months.
The download space is headlined by the Ninja Gaiden-inspiredThe Messenger and Freedom Planet, which is the best pre-Mania Sonic title since at least 1994. (A late shadowdrop in the Nindies Showcase also brought potential GOTY candidate Into the Breach into view.) Speaking of retro, Football Frenzy gets you ready for the concussion and protest season in the Archives.
Japan gets fashionably late tennis, a couple of intriguing shooters, and World End Syndrome.
Revision history: Walking Dead, Into the Breach added - 11:00pm ET 8/28
One game for NA/Europe, six games + three prices added for Japan - 11:10pm ET 8/29
Week finished - 10:08 pm ET 8/31
North America
Switch Retail
Monster Hunter Generations Ultimate (US$59.99/C$79.99: Tuesday)
Victor Vran: Overkill Edition ($39.99/$50.39: Tuesday)
Blade Strangers ($39.99/$49.99: Tuesday)
de Blob 2 ($29.99/$37.99: Tuesday)
Switch eShop
Gakuen Club ($24.99/$33.99)
Azure Reflection ($24.99/$33.99)
Realpolitiks ($24.99/$29.99)
The Walking Dead: Season One ($24.99: Tuesday)
The Messenger ($19.99/$25.19)
Freedom Planet ($14.99/$19.99)
Fall of Light: Darkest Edition ($14.99/$18.89)
Into the Breach ($14.99/$17.49: Tuesday)
Haunted Dungeons: Hyakki Castle ($13.99/$17.99)
Chiki-Chiki Boxy Racers ($9.99/$12.59)
Mini Metro ($9.99/$11.99)
Instant Tennis ($7.90/$9.90)
Western 1849 Reloaded ($6.99/$8.79)
The Videokid ($4.99/$6.29)
Gnomes Garden 3: The Thief of Castles ($4.99/$6.29)
Phantaruk ($4.99/$5.99)
Ludomania ($4.00/$5.04)
Switch Archives
Football Frenzy ($7.99/$9.87)
Argus ($7.99/$9.87)
Sales and Price Drops
Highlights: Yoku's Island Express is 40% off until Thursday. Spreadsheet
Europe
Switch Retail
Monster Hunter Generations Ultimate (€59.99/£49.99: Tuesday)
Victor Vran: Overkill Edition (€39.99/£35.99: Tuesday)
Blade Strangers (€39.99/£35.99: Tuesday)
God Wars: The Complete Legend (€39.99/£35.99: Friday)
de Blob 2 (€29.99/£26.99: Tuesday)
Switch eShop
Realpolitiks (€24.99/£22.49)
The Walking Dead: Season One (€24.99/£19.99: Tuesday)
Azure Reflection (€24.99/£19.99)
The Walking Dead: The Final Season (€23.99/£18.99: Tuesday)
The Messenger (€19.99/£17.99)
Fall of Light: Darkest Edition (€14.99/£13.49)
Freedom Planet (€14.99/£12.99)
Into the Breach (€14.99/£11.39: Tuesday)
Haunted Dungeons: Hyakki Castle (€11.99/£10.99)
Chiki-Chiki Boxy Racers (€9.99/£8.99)
Mini Metro (€8.49/£7.49)
Western 1849 Reloaded (€6.99/£6.29)
Gnomes Garden 3: The Thief of Castles (€4.99/£4.49)
The Videokid (€4.39/£3.99)
Switch Archives
Football Frenzy (€6.99/£6.29)
Argus (€6.99/£6.29)
Demos and Trials
Instant Tennis (Friday)
Japan
Tennis World Tour (¥7800)
Little Dragons Cafe (¥6264)
World End Syndrome (¥5800)
Blade Strangers (¥3996)
Psyvarair Delta (¥3800)
Gakuen CLUB〜Houkago no Himitsu〜 (¥2980)
Maihana Soumakyou (¥2480)
Burnstar (¥2150)
The Messenger (¥1980)
Zan! Zan! Zan! (¥1800)
Haunted Dungeons: Hyakki Castle (¥1500)
Mini Metro (¥1100)
Six Sides of the World Enhanced (¥1000)
Plague Road (¥980)
Football Frenzy (¥823)
Argus (¥823)
Toki Tori 2+ (¥800)
The Videokid (¥500)
Minna de Kuuki Yomi (¥500)
Tetra's Escape (¥500)
Daifugo: Honkaku AI Tousai (¥380)