And release dates for a Switch physical version and the Amiibo. (Hint: They're all the same.)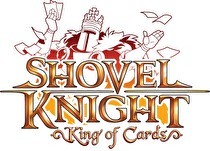 The Yacht Club Games team have revealed the release date for the final story expansion for their long-running success story.
Shovel Knight: King of Cards was revealed by IGN to be releasing on April 9 for both North America and Europe. Alongside it will be a release of Shovel Knight: Showdown, a multiplayer focused expansion with a story mode that features the knights battling in modes including a treasure hunting mode and a fighting game.
Both expansions will release standalone for US$9.99 each, or will be included as a free update for owners of the US$24.99 Shovel Knight: Treasure Trove on all eligible systems (Switch, Wii U, 3DS for King of Cards only). A Switch physical version of Treasure Trove will launch on April 9 for $39.99, and the three pack of Shovel Knight Amiibo (Plague, Specter, King Knights) will also release on the same day.