Two in eight days, and yet there may not be repeats.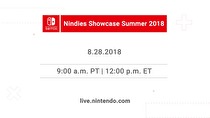 After the European presentation this week for Gamescom, Nintendo of America is throwing a pre-PAX party.
NoA have announced a Nindies Showcase video will air on Tuesday, August 28 ahead of the PAX West expo the following weekend. Previous Showcase videos have aired prior to Switch's launch, before PAX West 2017, and alongside the Game Developer's Conference this year.
No specific games were mentioned to appear during the Showcase, but a Nintendo PR statement about PAX promised "multiple unannounced indie games coming to Nintendo Switch" would be shown.