The big day is September 28, though others may point to December.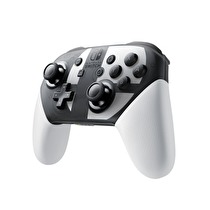 Nintendo has announced a few refreshes and some new Smashing gear today.
A special edition of Super Smash Bros. Ultimate has been announced that includes a black and white Switch Pro Controller with the game, as well as a steelbook case containing Smash Ultimate. The special edition has a US$139.99 MSRP, with the Pro Controller launching at $74.99. Both products will be available from December 7.
September 28 will see three Switch games and the New 2DSXL get refreshes. Super Mario Odyssey, Splatoon 2, and The Legend of Zelda: Breath of the Wild will now include strategy guides in "starter packs", while the New 2DSXL will include Mario Kart 7 in all bundles. Additionally, a purple and silver New 2DSXL will hit the same day. The starter packs are similar to the "Explorer's Edition" for Breath of the Wild that was a Black Friday offering last year, except the BotW one will forego the map that was included in the Explorer's Edition.