Time to vote on which art style makes Elma look creepier!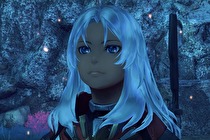 Today during a Gamescom 2018 presentation on Xenoblade Chronicles 2: Torna the Golden Country, Nintendo revealed that Elma from Xenoblade Chronicles X would be added as a DLC character immediately. Elma can be added to your menagerie of Blades after completing her specific challege "Otherworldly Fighter" in challenge mode.
Elma was the first person to join the player's party in Xenoblade Chronicles X on Wii U. She joins original Xenoblade Chronicles cast members Shulk and Fiora as special crossover characters for Xenoblade Chronicles 2 DLC.
Other new content included in today's update include a new rare blade named Corvin, Swimsuits which add special bonuses, a music track from Xenoblade Chronicles X, and a variety of new items.