Into the Breach is out right now, and also a whole mess of other games ranging from TowerFall to Untitled Goose Game were shown.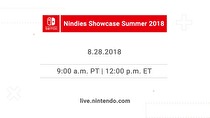 Into the Breach, Samurai Gunn 2, and TowerFall headlined the reveals during Nintendo's Nindies Showcase Summer 2018. Into the Breach, from the creators of FTL, is available today following its February 2018 PC launch.
TowerFall for Nintendo Switch was shown, revealing a new six-player mode, two new characters from Celeste, and a variety of other modes. Along the same local multiplayer lines, Samurai Gunn 2 was revealed, due out in early 2019, with a full story mode and included comic book along with the acclaimed local mayhem.
Other notable games include Treasure Stack, a cross-platform puzzle game that looks like Wario's Woods, and Mineko's Night Market, a cat-fueled adventure game. Notable indie developer Supergiant Games will also be bringing their past games to Switch this year, with the critically acclaimed Bastion due out on September 13 and Transistor set to hit later in November.
Additionally, past Showcase stars such as Light Fingers, Dragon: Marked for Death, and Hyperlight Drifter were given release dates. See below for a roundup of the dates.
Hyperlight Drifter - September 6
Wasteland 2: Director's Cut - September 13
Bastion - September 13
Undertale - September 18
Light Fingers - September 20
TowerFall - September 27
Zarvot - October 2018
Jackbox Party Pack 5 - October 2018
Superbrothers: Sword & Sworcery EP - October 2018
Bullet Age - November 2018
Levelhead - November 2018
Transistor - November 2018
Dragon: Marked for Death - December 13
Desert Child - December 2018
Treasure Stack - Winter
Mineko's Night Market - Early 2019
Samurai Gunn 2 - Early 2019
The World Next Door - Early 2019
King of the Hat - Early 2019
Untitled Goose Game - Early 2019