Josh looks at the movies with a continuing storyline.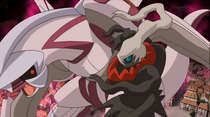 Now, I'm not exactly the biggest Pokémon movie fan out there. I watched the first three, like most of the kids in my generation. But after those, I stopped watching the movies altogether.
Recently, I watched the Diamond & Pearl Movie Trilogy. Allow me to offer a brief plot synopsis for each of the movies:
Ash, along with his friends Dawn and Brock, arrive in Alamos Town. This town isn't really different from most towns. There are two towers in the middle of town that represent space and time, but aside from that it's an average town. After Ash and his cohorts arrive in town, things get a little freaky. Space starts getting distorted and rumors are spreading about the cause of it all. The townspeople are blaming the events on a Dark Pokemon called Darkrai, a Pokemon of legends. What actually happened is that Dialga, the Pokemon of Time and Palkia, the Pokemon of Space crossed into each others dimensions and started to fight (for some unknown reason). Int he fight Dialga manages to break one of Palkia's Space Gems, distorting space in the process.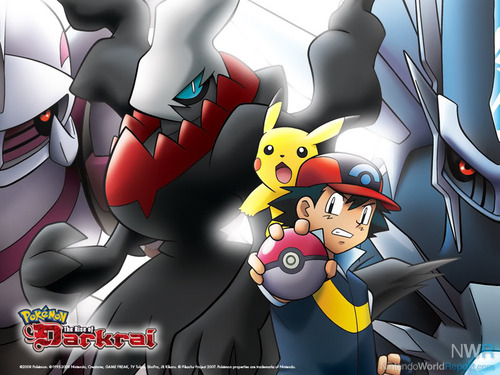 The first in the epic trilogy
In town, some trainers (led by the Baron of the town) discover Darkrai's whereabouts and begin to attack. Darkrai, master of nightmares, puts all of the Pokemon into a deep slumber; he even manages to put Ash to sleep. While the Pokemon who have been put to sleep are dreaming, their beings are astrally projected, which give them a ghostly look.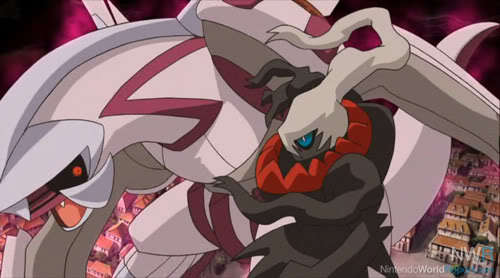 Danger lies ahead!
Eventually it comes to light that Darkrai was trying to fight Palkia and restore everything back to normal. The townspeople start to cheer on Darkrai, but no sooner have the cheers started than Palkia beats the snot out of Darkrai. Then, seemingly out of nowhere, Dialga shows up and beat both Palkia and Darkrai to a pulp. Palkia continues to fight Dialga in the middle of town, which coincidentally has been shifted to Palkia's dimension. The two creatures of legend duke it out as Ash and his friends try to reach the top of the towers so they can play a piece of music that will calm everyone down. After the notes reach the ears (?) of Palkia and Dialga the two separate and disappear to their own dimensions. It is implied that the battle that has just transpired has more consequences than the ones that were just witnessed.