Andrew wonders why legendary Pokémon are so obsessed with destiny.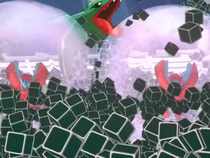 Destiny Deoxys sees the traveling trainer team arrive at the technologically-advanced LaRousse City, where everything is run by computers. Automatic sidewalks carry pedestrians around, animatronic vending machines carry hot food around and even the local Pokémon battle arena is a sight to behold.
But things go horribly awry when Deoxys (#386) appears and begins literally scooping up humans and throwing them out of town. All computer systems shut down, and the remaining humans were forced to take refuge and hide within the powerless buildings, scurrying through ventilation shafts and basements to hide from Deoxys' eyes.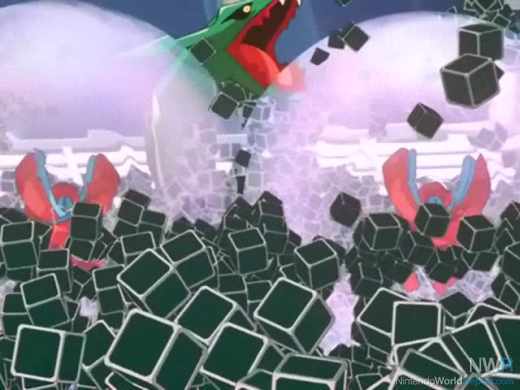 Blocks! Blocks everywhere!
Deoxys is the first Pokémon to be officially confirmed (by Pokémon researchers within the game universe) to have originated in outer space, making it an extra-terrestrial. Classified as a "DNA Type" Pokémon and said to be the result of an alien virus, Deoxys can shapeshift between several different physical structures known as Formes, each with their own emphasis on attack, defense, etc. In its original appearance in the Generation III games of Ruby, Sapphire, and Emerald, Deoxys could be met using a special Aurora Ticket given out at promotional events, allowing ferry access to Birth Island somewhere offshore of Hoenn. The Forme that Deoxys took depended on which of the three games he was caught in.
In Generation IV, Diamond and Pearl, a traded-in Deoxys could interact with several fallen meteorites in Veilstone City which would transform it into whichever Forme the player desired.
In the movie, it was revealed that Deoxys was not trying to harm or abduct people, it was simply moving them aside so it could search for its friend, another Deoxys that had crash landed on Earth in a meteorite, which was being studied in town. This marked the first time in the Pokémon film continuity that more than one legendary Pokémon of the same species appeared, thus indicating that while incredibly rare, legendary Pokémon were not single, one-of-a-kind entities.
The presence of Deoxys in LaRousse City awoke and angered the legendary Rayquaza (#384) who violently attacked the city until Ash and his friends managed to quell its anger.
There is nothing cooler that flying with rare Pokemon
There's not much else to say about the movie's plot - it's relatively uneventful and a large portion of the film focuses on Ash meeting a boy who was scared of Pokémon due to a childhood trauma, and his subsequent meddling in attempt to get the kid over his fears.
What adventure there is, is quite good, and the ever-improving art from each season of the show is reflected and further improved in the movie. The design of the city is quite interesting and the advanced way that society works and runs in the computer-controlled environment is fascinating.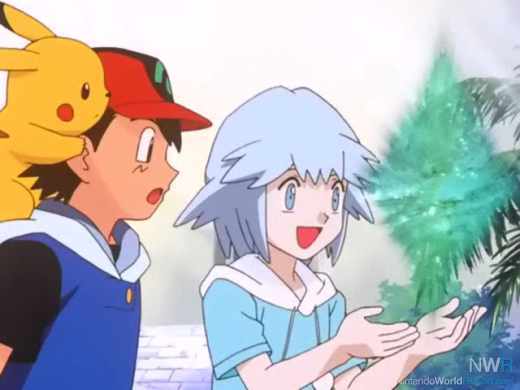 You can't be epic without a glowing spirit!
Interestingly enough, this is the only Pokémon movie to have a censorship made to the English dub version. As Team Rocket blunder into town, they assault a hamburger-serving robot in the hopes of a free meal. When confronted and threatened by a levitating Block Bot (something of a town mascot for LaRousse, they serve as guides, security and passport distributors to all citizens and visitors of the city), Jessie attempts to seduce her way out of trouble by rubbing her butt against its interface panel, and ends up electrocuting herself in the process. This scene was removed from most network airings of the show, but remains intact on the DVD release of the movie.