Join us as we watch the entire series of Pokémon movies!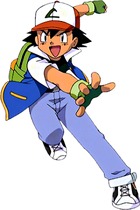 In celebration of the upcoming American DVD release of the 13th Pokémon movie, Zoroark: Master of Illusions, it seems as fitting a time as ever to look back on the entire series of feature films based on the household franchise.
Related to the anime series and loosely following the general continuity of the show, the movies follow the story of Ash Ketchum, the plucky young trainer on his journey through each of the games' regions, accompanied by his small group of friends and large group of Pokémon.
The movies are generally designed to show off the rare, one-of-a-kind, or "Legendary" Pokémon from each generation of games. They are also known for sometimes revealing new Pokémon from an upcoming region in the next generation of games, to build up mystery and keep the hype for each new game alive.
Additionally, every movie, at least in Japan, has been animated with an accompanying short film centering around everyone's favorite yellow rodent Pikachu, who interacts with the main characters' Pokémon (at the time of screening anyway) and generally fills the screen with nonsensical jibberish cuteness. Only the first six of these Pikachu shorts were ever dubbed in English, though several standalone specials were released direct to home video.
So, without any further achu (see what I did there?), Let's get our Pokém-on (no more puns, I promise) and reminisce over the entire collection of Pokémon films.