by Jordan Rudek - 12:00 pm EDT
Total comments: 4
Mario's first foray into 3D showed us what was possible in a new dimension.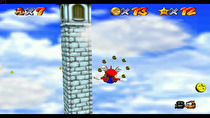 When the Nintendo 64 launched in North America in June of 1996, there were only two titles available for it: Super Mario 64 and Pilotwings 64. One of those is an underrated flying sim that I wish were available to purchase anywhere, and the other is a seminal 3D platformer that paved the way for... Read more...