by Neal Ronaghan - 5:33 pm EDT
Discuss in talkback!
It might cost upwards of $600 to collect'em all, so let's needlessly try to figure out what might be the coolest of the add-ons.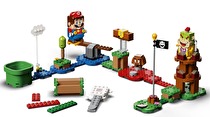 I won't include the Adventures with Mario Starter Course ($59.99) in the ranking since that's basically your entry point. It's needed to do the fun LEGO Mario stuff. This kit has 231 pieces and includes the fancy Mario figure as well as a Goomba and Bowser Jr. You get a hero, a minion, and a boss all in one set. There's also a coin block, a pipe, some obstacles, and a flag. It's got the basics.
Read more...