by Neal Ronaghan - 12:00 am PST
Discuss in talkback!
The best way to play a classic yet dated '80s RPG.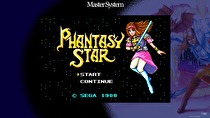 If I had come across Phantasy Star when I was younger, I think my recent visit to the Algol solar system would have been a lot rosier. Originally released in America on the Master System in 1988, Phantasy Star was one of the better console RPGs of its era. The turn-based combat was solid, the first-person dungeon-exploring was engaging, and the story was good even though it suffered a little bit from the limitations of the Master System.
Read more...