by Neal Ronaghan - 10:04 am PDT
Total comments: 3
Following up a disappointing game in the final days of the Wii U was a tough job but somebody had to do it.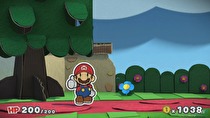 Paper Mario: The Origami King is on its way to Nintendo Switch soon, and with all the news swirling around about Mario and his pop-up adventures, I've reflected on my own experiences with the 20-year-old franchise. I actually started collecting these thoughts before Origami King was announced, as... Read more...