Kirby makes his retail 3DS debut with this 2014 platformer.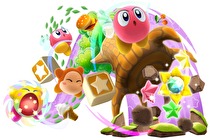 We're now in March 2018, so that means Kirby Star Allies is now due out later this month. In advance, we're going to look back at the Kirby series, specifically the last 10 years of games.
The great 3DS game Kirby Triple Deluxe is the subject of this video, complete with goofy 3D usage and motion controls. We also lightly touch on Kirby Fighters Deluxe and Dedede's Drum Dash Deluxe.