The star will guide these Kirbys to freedom.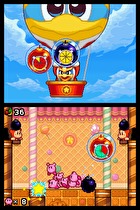 We're now in March 2018, so that means Kirby Star Allies is now due out later this month. In advance, we're going to look back at the Kirby series, specifically the last 10 years of games.
Up today is Kirby Mass Attack, the late-gen DS game that let you control a gaggle of Kirbys on the touchscreen.