Because Mario went so well.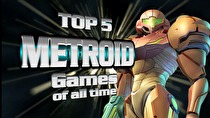 Well we did it again. We asked our Patreon supporters and staff to sort through the fantastic collection of games that is the Metroid series and pick the very best one. It was a tough choice as many of the titles in this series (including those that didn't even make it into the top five) are often scored as perfect 10/10 games. You can watch the video below, and if you scroll down even farther you can see the complete ranking of every game in the series. Please note that this voting was performed before the release of Metroid Prime: Federation Force so it is not included in this list. That being said we'd love to know where you'd rank it, so leave your list in the comments!
Remember you can vote on lists like this by supporting our Patreon. You can also stay up to date with all the latest videos from NWRTV by subscribing here.
Keep scrolling down for the complete list.
here it comes.
Keep in mind this will spoil the video if you didn't already watch it.
are you sure?
alright here it is.
Behold!
Full ranking:
1. Metroid: Zero Mission
2. Metroid Prime
3. Super Metroid
4. Metroid: Fusion
5. Metroid Prime 3: Corruption
6. Metroid Prime 2: Echoes
7. Metroid: Other M
8. Metroid
9. Metroid II: Return of Samus
10. Metroid Prime: Pinball
11. Metroid Prime: Hunters