See Mario get freaking huge and very tiny in the latest trailer for the August release.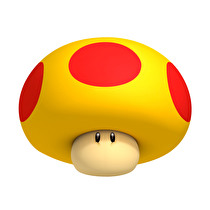 Nintendo released a new New Super Mario Bros. 2 trailer that shows off the Mega and Mini Mushroom power-ups and White Tanooki Suit, in addition to more gold-tinged action.
The Mega and Mini Mushrooms both made their debut in New Super Mario Bros. on DS. The Mega Mushroom temporarily turns Mario into the size of the screen, demolishing nearly everything in his path. The Mini Mushroom makes Mario tiny, allowing him to fit into smaller areas and walk on water. The trailer shows off no new uses of the power-ups, though.
The White Raccoon power appears when you die in the same spot five times in a row, making you invincible for the rest of the stage. The power-up works like the White Tanooki Suit in last year's Super Mario 3D Land. (The earlier Andriasang-Famitsu report of the White Tanooki Suit appearing in the game may have been mistaken as both are considered tanuki powers in Japan).
The new trailer also shows off a new monochrome world and a colorful rainbow-looking level with tons of coins. It also shows off Golden Bullet Bills and Boos.
New Super Mario Bros. 2 is out in Japan on July 28, and is coming out in North America and Europe on August 19 and August 17 respectively.