The Blanket of Legend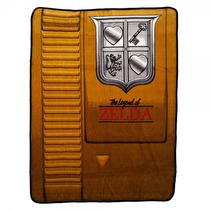 Last month we gave away a Paired Pikachu 8" "Symphony" Plushie (So cute!) but October's prize is truly legendary: a Zelda Gold NES Cartridge Throw Blanket! Thank you EVERYBODY for supporting us in our quest to deliver exciting Nintendo developments and exclusive gaming content at NWR!
If you're backing us on Patreon (at any level) you're already automatically entered! We'll run the random drawing at the end of the month, so if you're not already a backer why not check out our Patreon page and consider backing us at a level that you feel comfortable at?
However, purchases aren't necessary to enter the giveaway! Even if you don't back us on Patreon, you can enter to win the prize by filling out the below form!